There Be Bandits a Foot.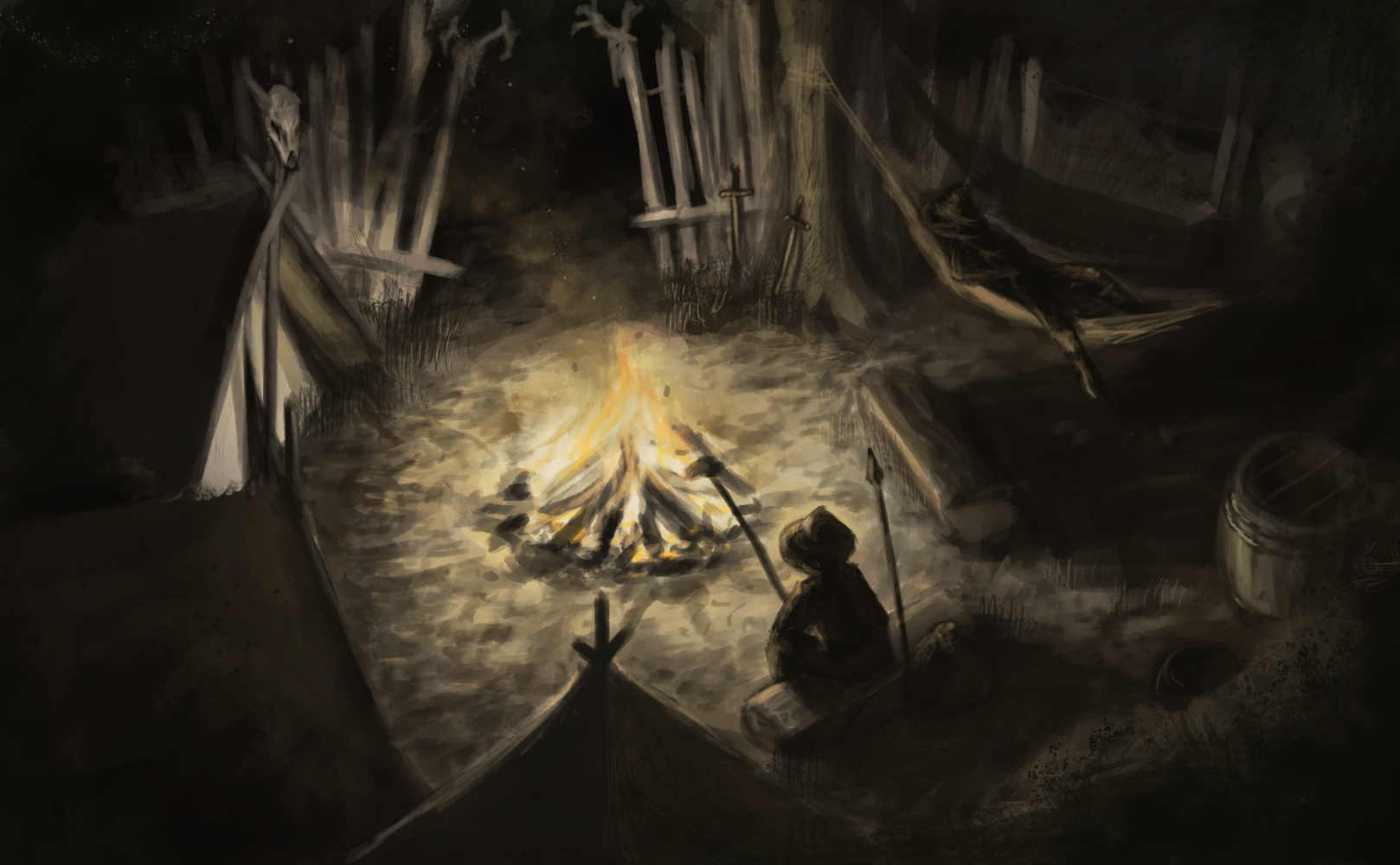 Anaya "The Night"04/29/2019
She watched the large man give his goodbyes and then the others have to push themselves and squish themselves down the drain pipe, she went back and joined them down the pipe as they got to the path that lead into the city of rat folk. She walked out in front of them as she with her little fingers warped around her small little pendent she moved her frail body up and lead the group down the path, around a curve and into the opening to look over the town that was before them. It was large, like overly large and packed to the brim with houses and buildings, rats were everywhere there was large rats, small rats children, men, woman, every type of rat you could think of was here and there and all over the place.  Little rats scurried around as some other ones stood at a distance looking at the outsiders with wide eyes "new faces, look at the outsiders"  little voices whispered from the group as the old rat woman walked past them. The town was all lit up by small magic orbs in lamps and on pedestals and the whole place looked both scattered and set up all at the same time, the streets were like a river, all breaking off and then twisting around to match back up. She kept on walking hoping the people would follow her and ignore the odd looks and waging little naked tails of other rat folk. "so this my children of the above ground is Skolf, our little town that dwells under the city of iron. The heat from the great underground, it gives us heat witch gives us life, it is a gift from the underwater trapped in the earth, such a pitty such a pitty.  If you want to see the great underground that gives us heat and life i can take you down there later if you want to stay a while with us here. Now i will take you to the chapel sadly i have little time to show you around before mass as i did spend more time then i needed up top to gather you all here today. Oh and i am Guilda, third Elder of scolf"
Coyote42004/29/2019
"Guilda." Vincent greeted her and happily waved his branches at everyone. He hadn't seen anyone so nice, or been anywhere so pleasant as this amazing underground town. He was speaking glowing plants again , giving them to whomever would take them. He had even carefully placed some on Guilda, and it occoured to him she had very nearly the same name as Gilda, whom only earlier that day, they had lost. "I would love to!" He exclaimed, following the rat woman towards the services, as she spoke about seeing the great underground. "Of course." Yes she had been asking or calling about a service, It would be good to go there first. Third elder sounded like an important title, and Vincent looked at the unassuming creature carefully. "I am Vincent." He waved at mice children who stopped paying, and left a few glowing mushrooms for them to find, careful to be sure they were of a harmless variety even though the immune systems of these creatures must have been far superior to his. The place was wonderful. Vincent's appreciation for it was etched very clearly on his face. It almost made one forget about the tradgedy of the surface.-
EncryptedGrace04/29/2019
Zephyr had squeezed her webs with her Ways in such a way that when she began to climb down the ladder, they unraveled and dropped as though she was no longer in them. though they remained suspended in air, and once through the hole she reformed into the elven depiction of a host that she had previously. The little rat lady was such a curious creature and Zephyr liked her immediately, keeping close even as she made her way to the front of the group she led. " HI everyone! I'm Zephyr! " Zephyr exclaimed, glancing around the town that they walked through, and she waved at all the ones staring and murmuring, flashing them a wide happy smile. She adored the town and those who lived here, eyes wide with wonder and when the rat children came out to play she squealed with delight to the point that her webs no longer resembled an elven woman, but rather a prepubescent rat child in the matter of the few seconds it took to reshape her webs. She ran along with some of them, chattering away about how much fun tag was, and how Leviathan was so giving. She was sad to leave the children, but gravitated toward the moving group, just in time to hear the rat woman talk about the great underground, and the service. Zephyr stored her name into her rememberance, and kept the form of a rat as she joined the group. "I'd love to see the great underground too. What is the service about today, Guilda?" She asked, glancing up at Vincent as she scampered along. He was much larger than she now, and harder to keep up with no matter how much she scrambled, so she climbed atop one of his root legs. Clawing her way up his trunk, she sat on a branch as he walked, surveying everything as they passed by.
Anaya "The Night"04/29/2019
"The service today is simply a.welcomeing and prayer gathering, to share the love of the deep and wish not death to others but respect and understand it, fear not the deep for the deep is peace for the good and for it is deserved torment for the wretched. There will be many there worship is a grand thing for the people down here. All are welcome at the services l none are turned away ever, and we can go to the great undergrounds chambers after the gathering and tea, it is the only.place you can find the great underground to give thanks to him, his temple chamber and it is not far from here on the east side of town"  she kept on walking as she got to a large church building, it looked very old but extreamly well kept for its age. The stones looked almost polished with flex of gold and rare metals melded into the molding. The building almost shimmered and at the doors was two large bulky armor clad Male rats that said not a word and simply held there spears at there posts. The elder gave them a nod and they did the same respectfully back "we guard our churches well, but do not worry about talking to them, all the guards in Skolf go under the pure water cleansing ritual, it aids them in there jobs and makes them much stronger in the end" she then pushed the doors open and waited for the others to enter the building.
Coyote42004/29/2019
Vincent simply listened as the rat woman explained everything. At the sight of the rat guardw he set up several of the glowing mushrooms, thinking it would make their area a bit brighter. He did I respectfully and after seeing the rat lady nod at them, he did the same. The deep sounded like a nice place, well, like a half nice place. The poor bad people would suffer. Vincent wondered how many of the bad people suffered who just didn't know any better as he looked around inside the place of worship. He was trusting, so trusting. "What is the pure water cleansing ritual?" He asked, curiously glancing back at the rat lady who helped the door open as the others filed through. It sounded good, but then everything here seemed so good. It was like strange commune. He didn't spread any plants inside the church h, simply because he found the place seemed fairly in order and was probably exactly how the rat folks wanted it.
EncryptedGrace04/29/2019
Listening intently, Zephyr rode in Vincent and waved at the guards, as they passed them into the church building. Her maw gaped as she looked around, and purveyed the glittering walls. The glowing orbs cast the loveliest glow across the marbled structure and it glinted merrily across the church in such an inviting way. Zephyr hopped down from Vince and toddled over to the rat lady, her webby whiskers twitching as she looked around some more. She was totally distracted, and paid very little mind to the swarm of other people beginning to enter the church for their service. "What do you mean, in the end?" Zephyr added to Vincent's question as well, but her eyes followed the room and fell on the front of the church.
Arzagoth Shadowhand04/30/2019
following the group assemble, his eyes locked on the once elven woman turned ratfolkb Arzagoth stopped and turned his eyes to the temple. After a few moments of glancing over its appearance, he turned to the elderly ratfolk woman, then he placed his right hand to the center of his chest, his first two fingers pointed upward and bowed as he introduced himself "Elder Guilda...It is an honour to meet you. I am Arzagoth Shadowhand of the Verdaenii Order...you had mentioned a Mass. When does this begin, if i may ask?"
Anaya "The Night"05/01/2019
the doors cracked as they shut and she paused a moment as the girl asked about the cleansing ritual "oh dear it is nothing, simply a way we have done for the many years, the leviathan showed us the ways many a moon ago, we can go over it after the service and tea is served"  the place smelled of age, like opening a old book and being able to tell the years simply due to the smell of the ink. Within the walls was stain glass windows depicting a sea and a massive serpent that was laced into the art work. Under him small out reaching arms from stain glass people worshippers or lost souls trapped under the water it was hard to tell. Over him was a giant blue bird out reaching wings and a sad gaze shimmering under a bright glass sun. The windows even apart all made a picture together one windows art matching with the next. There were many pews filled with young and old children, mothers, fathers all rats, but one, a darker figure in the back, she had blue hair tightly bound to her head, slicked back, and a long dress and a outplaced cloak that covered her shoulders and body and part of her head and face, she was in the back pew and out of the way but seemed just as interested in the service as everyone else. The rat woman then walked up to the pedestal and moved her fingers around her little chain symbol of her peoples treasured god.
"O God underwater, oh lord the waves be deep within us, may your gace flow over us, make the door of this house wide enough to receive all who need your love and fellowship; narrow enough to shut out all envy pride and strife, make sin stop at our door and may we fear nothing, not death for you are with us, not darkness for your teeth and tail they guard us, we fear not anything of this earth for we know you watch over us and treasure us proudly, Make its threshold smooth enough to be no stumbling block to children nor straying feet, but rugged and strong enough to turn back the tempter's power. Our lord under sea make the door of this house the gateway to thine eternal kingdom for this day and all days the next. AMEN" she paused a moment as she pulled a small book covered in blue lace out from under the cover. She flipped a couple pages and then looked up at her following her little silver hues scaning the room and all in it.
"my beautiful flock, oh what a bright day we have here to celebrate the coming of new friends and the parting of some of our elderly, there has been 34 deaths since the last week but now they are at rest with him for all time, beauty under the waves my children beauty under the waves" from the congregation came all in unity.
"beauty under the waves forever and always, beauty under the waves"
"that is truth my children, today service is to tell the history of our simply folk and welcome the new birthed and wish well the done and drowned, blissful slumber they will have along side there beloved god above all under the sea we only dream to touch. " she flipped a couple pages in her book as she looked over at the flock. The one woman in the back had a smile on her face as she watched them, a hood over her head from her cape like robe as her blue skin shimmered under it all. But she said not a word, not a word at all and simply sat there and watched.
"long ago a single rat crawled out from the sea, flippers it had and the tail of a fish, the sea was its womb and the earth its birthing, it crawled forth upon the land and the world grew up around it, flippers turned to hands and a tail to legs and farther from the sea it came. To here, a little place above the ground, but the sun burned its skin and the earth called it within and Scolf was made. But it longed for the sea, it wished for its home as we do now, calling to the sea and wanting its touch upon our fur and to feel the sweet salt upon our faces, but alas we the rats will never feel such a splender for we are so far from our native place of birth, the mother water calls us home but we are here for time and only in death can we find peace to be with him forever and always under the waves,a cage for most but a haven for us" she smiled as you could see the longing in her own expression as she flipped the pages in her book.
"and now my children we will say the prayer to our lord under the world, the leviathan in all his splender bow your heads and repeat with me our lords prayer for protection and security to cleanse you of your wrongs with him and let your hearts rest with the sea"
"Oh great lord, May the Lord Laviathan hear you in thine day of trouble,
the name of the God of of the sea and deep defend you;
Send you help from his sanctuary under the towering waves
and strengthen you out of sin and out of  of his own scorn to the wrong dowers;
Remember all your offerings
and give your drowned sacrifice;
Grant you your heart's desire
and fulfil all your mind.
Amen.
Our Lord the great Leviathan,
present with us now in his grand power,
enter into your body and spirit,
take from you all that harms and hinders you,
and fill you with his strangth and his peace and let your soul rest with eyes closed.
Amen.
The Deep be with you: Deep within you;
Black waves before you: The Deep behind you;
The goul to your right: Treasured demon on your left;
The Deep  above you: Black Water beneath you;
Leviathan around you: now and ever.
Bind unto yourself the name,
the strong name of the all mighty;
by invocation of the same,
the you in One and One in us.
Of whom all nature hath creation, crawled forth from the waters,
Eternal Father, Spirit, World:
praise the Lord Laviathan of your salvation,
salvation is of the black water Deep
Amen.
Almighty God below the waves, dark Father under shore and earth,
breathe your  Spirit into the heart of this your servant
and inspire all with honor, judgment, and truth.
May we, fearing only you, have no other fear;
knowing your compassion, be never fearing of death its self, for you are with us
and serving you faithfully unto death when we fall with you, and live eternally with you;
through you our Lord Laviathan
Ame......"
all of a sudden the doors to the room side slammed open. And out burst a massive man walking into the room, large horns curled behind his head as he stood there with arms out reaching. "SERVICE IS OVER!" he yelled out as he started to laugh. "time is about up everyone, we came for the blue skinned one, boss is going to pay a mighty price for that hide, first one to bring her to us gets there body in gold! And then some" he snickered as he looked around the room. "only after we have her will you get back to this little shindig you have going on here,, phhh stupid rats praying to a make believe god"  he gave a cracked grin as his eyes once more scanned the room. That person at the back that had the cape, was now completely gone and the doors were just swinging.
Coyote42005/01/2019
-He had been listening intently to the nearly poetic yet strangely fatalistic service. Drowning couldn't be that great. Still, the rats almost made it sound like the goal to have.  When the loud fellow arrived, at first he thought it was all part of the show. He thought the horned man was supposed to show up. He had seen the blue woman and noted her singuarity among the rat-folk, but then again, he was different too. By the time he looked ack towards the blue woman she was gone, the doors betraying her direction, before he turned and watched the man carefully. It seemed nobody was moving. Apparently this was unusual and these peaceful rats didn't seem too keen on leaving the service either. He made his way to the large fellow and looked at him curiousely, apparently in front of an entire assembled congregation. "Come with me, let's go get her." He held open the door the being had barged through and and tipped his head, as if beckoning fo the being to follow him. "And tell me about your boss." He hoped the other two would find the woman and see what all of this was about from her perspective. He just had to keep this guy busy, and out of the assembly room, so the rats could have their service and so he could see what this was all about. "My people will go find the blue one." He said. "You and I need to go somewhere where there aren't quite so many ears." He knew he probably just looked like a plant to the being, a plant with eyes, but he figured the service could continue unmolested and this guy could be kept busy while the others found what there was to find.
EncryptedGrace05/01/2019
Zephyr had a short attention span, and despite Guilda's most beautiful rendition of the history and the great leviathan, Zephyr's attention wasn't held. It was all over the room, bouncing from one rat person to the next. One face to the next, and from one distraction to the other. She fiddled in her seat, swinging her little newfound rat feet over the edge until she just couldn't handle it anymore. Despite being the only one not rapture into silence, she hopped up and toddled to the back of the room. That's when she saw her. The blue skinned lady. She wasn't like the rest of them, with her gorgeous color, and lack of fur and Zephyr's eyes widened a bit when she saw her. She was immediately drawn to her, and hopped up on the pew that she sat on. She had edged herself close enough to be heard and bent over in the woman's direction to ask her what her name was when the giant horned man stormed into the room. Zephyr nearly jumped out of her webs. In fact, much like any other time she had been scared out of her wits, her webs expanded, losing form for a mere moment and it was as though the were held suspended for a split second until Zephyr ragathered herself and regained control of her web-substance. The blue lady vanished, the only evidence of where she had gone were the swinging doors. "Farts!" Zephyr exclaimed. She didn't wait for Vincent, or anyone else, she just ran- racing after the blue lady. "Come back! I didn't get your name! Why is he looking for you??" Zephyr followed, racing as fast as she could. She noted the footsteps that led out of the chapel toward another building and guessed that, was her best bet. ((Zephyr leaves the town square/chapel))
Arzagoth Shadowhand05/01/2019
it had been some months since Arzagoth had been in a service within any sort of temple. The last service was a prayer service back at the Verdaenii monastery he grew up in. The service was for his and a few other Journeymen Monks in preparation for their departure into the world. For a moment, the memory of that day, the smell of the incense, which was a mixture of Sandalwood, Dragon's Blood, and Spruce, returned to him...until the large man entered the room, breaking him from the reverie. Just as the doors slammed open, he turned in his seat only to see the plant man approach him, appearing to stall the man. A moment after, he heard the small ratfolk-who-wasn't exclaim aloud "Farts", bringing his attention back to the opposite side of the temple. With a groan, Arzagoth stood and ran after the being that bolted through the swinging door, confident that the plant man had the brutish man occupied, as well as thinking /there is more to this than the man says/ as he followed the now two sets of footprints towards the adjacent building. The scents of the underground city, as unusual as they were compared to the world above, didn't concern him at the time. He knew in his heart that this is where he needed to be, this is what he needed to do.
((Arzagoth has left the temple))
Anaya "The Night"05/01/2019
The man looked at the other male that came up to him seeming interested in his sly talk "we can talk right here, there stupid service can wait, they are rats,  they will do fine " he reached back garbing a chair and flinging it foreword to sit on it back facing the man as he leaned foreword his horns shimmering in the light. "well boss dont have a name, and we dont talk to him much, but he wants the blue skined one as a new trophy. Said her skin and blood give some facy power boosts that we want to get our hands on and this is the only place to find a blue skinned first born away form the deep sea, and the exiled ones far from salt water are weak, easy grab so get with your friends and go get it, we will be right here with them nice rat people wall we wait" he gave a smile as he reached a hand out to grab a hold of that little rat elder they had gottin to know pulling her into his strong arm grip peting over her head like she was a toy and he was some child with a heavy hand "seeee we will be best friend, eh little ratty" she said not a word and squirmed a little unable to get out of his grip.
Coyote42005/01/2019
-Vincent watched the show the an put on, his eyes resting on the kind elder's face. She didn't deserve humiliation in his mind, but I was also clear the rats didn't particarly like violence. "Are you a smart creature, or a follish one?" It sounded like an insult but Vincent had already over talked a spider, and then Issa had been able to fool their very eyes. He didn't know how to ask the question any clearer than that, but he tried. "What I mean to say is, there's probably a good reason you're not the boss, right?" The spriggan form he was in, in it's living branches, formed to loosely resemble the being before him. This was a manipulation of the vines on his person, and the arrangement of pant life being move around and held into shape by his ways, a practice attempt. It soon faded back. And he just watched the being before him.
Anaya "The Night"05/01/2019
"The only reason why I am not the boss is due to not careing to be, I have my group and that is all I need, six good strong men just out back ready to spring in if i need them, not like i will ya little tree wont do anything funny will ya" he gave a chuckle as he tussled the little rat womans hair, she looked co.pleatly unimpressed and then with her teeth bit down hard on the mans arm forcing him to let her go, she let out a squeal and scuttered away to find shelter in the back of the building. Then some of the other rat folk had left scattering like well rats and within a minute or two the room was empty. The horned man did nothing to stop them he k we this building to them was more precious then there feeble little short lived lives. "Now if you dont leave little tree I will just have to start a fire under this chair and see how fast history can burn. Go with your little web girl friend and bring back the blue skinned first born exiled whore and I will pay ya in more gold then you can imagine, and hey if all goes well.may even be able to cut you in on a bit of her skin and blood maybe give you that added kick you need in the bedroom or battle ground."
Coyote42005/01/2019
-Vincent laughed. He literally couldn't tell if the guy was intelligent or not. "Gold means nothing to me." He said. He looked around at the building and then back to the man. "Let's go wherever you would go of you did light this building on fire, without actually lighting it." Vincet gave a wide tree smile and lifted his hand, placing it on the wall of the temple, discoloring it by removing the gold. This was, by his ways, moulded into something similar to the gold coins Balore had liked so much. "How many of these to hire you and your team anyways?" He asked, holding the coin between two twig fingers. His green eyes studied the being before him. "I could use an effective team like yours." It was clear Vincent had no intention of just 'running along' and doing someone else's bidding; least ways in trade for a material that seemed to be literally everywhere. If need be, he'd just be as annoying as possible, keeping the man distracted.
Anaya "The Night"05/01/2019
The man watched him and he could see a spark in his eye at the little trees acthions, the little tree can pull gold out of stone, well that is a handie commodity  "well look at that, you can make gold like it means nothing to ya, how about we forget the blue skin or get her later and just take you wall you are all alone seeing you want to, get to know my little gang better , we can talk all about it in the cart I am sure. Boys! " he called out as three more men walked into the building one holding a nice strong set of cuff like shakles and chain and the other haveing a iron wood chest box that looked like a.ok size to stuff a person in it. "So ya want to do this the easy way or the hard way tree sprite"
Coyote42005/01/2019
Obviously the men didn't know he could just absorb all the materials presented to him, or simply reshape them. He smiled as he walked over to the man with the shackles, and reaching out he touched them, taking them but not as an object, simply by taking them into himself. "Easy way is the best." The metal was hard, it was supposed to be hard, but Vincent arveled at the strength of this wood these men had. He opened the lid, looking maybe a little too excited, and smiled at the first man. "I can't wait to see where you take me." He sat down in the chest and asked very politely. "May I watch where we are going?"He indicated the light with a gesture of his hand and looked at the man hopefully.
Anaya "The Night"05/03/2019
The man took his hands and shoved the little twig man into the box, as soon as the lid shut there was a loud locking sound and the chest its self took on a little glow for only a second and then everything went silent (magical lock level 5,(locks can only be broken by a being 2X the level of the lock, example a level 5 lock can only be broken by a level 10. a level 10 lock can only be broken by a level 20, locks can only go up to level 10) what is inside is locked within and can not in anyway break the lock or get out, a thin magical barrier covers the box, so even if the being finds a way to break the box and not the lock the box is held together by magic and thus forth cant be opened) "alright boys lets take this bugger out, leave the blue bitch for another day it is not like she is gonna go anywhere!" the men picked up the large iron wood box and hoisted it up and over there shoulders sliding a long rod threw its handles for easier lifting. With that they walked with it out into the streets to thump the large box into a cart bed witch was held by not one but two large horses. "alright we can take this one out to lock it up for the boss to get to later, the Green eyed devil will like a new play thing anyway" he would wait a moment before hoping up into the drivers spot on the cart and taking the horse rains in hand. "we will go out the back of this dump sewer town" and he gave a good whip of the rains and the horse gave a loud cry as there hooves dug into the dirt and they were on there way.
(Vincent has been kiddnaped by a unknown group of bandits, he will now be taken to another location)
Coyote42005/03/2019
They were rather rough when they shoved him into the box. At first, this weighed heavily on Vincent. The glow of the plants on his form lit the interior, but he could not get them to stay on the wood, every time he tried there was the faintest of blue shimmers and then nothing. He left the plants on his form, listening to the voices outside of the box. Apparently he would get to meet this boss anyways. He didn't bother trying any of his abilities outside of the box for a couple reasons, primarily because it didn't occour to him to do so. Every jolt of the wagon was uncomfortable, every pot-hole and turn causing his form no comfort as he was cramped inside the box. They had not taken any of his gear, nor had they in any way actually armed him or expressed a desire to do so. Contenting himself with these realizations he did what he could to relax, layig on his back in the box and holding up a little glowing dandelion seed head. Where they were going he didn't know, nor did he trouble himself with how long it would take.
----
Anaya "The Night"05/01/2019
the doors have been flung open and hand dangling as the sign on the front reads closed but clearly there was action inside
EncryptedGrace05/01/2019
Zephyr didn't know how to read, so the words were lost on her, but she could make out the naked woman in the sign. She stepped into the threshold, wringing her hands as her pointed nose twitched and whiskers whizzed. "Hello??" she called out, dipping her head into the building. "Is anyone there??" Little rat ears twitched, standing straight up like beacons, and turned toward any sound that might come. "Blue lady??" She called out again, and paused,, clearing her throat. "Blue lady, are you here?"
Anaya "The Night"05/01/2019
The room was empty, a large black and grey room with a single desk, a chair in it and a side door that must lead to a back segment. But the little web covered woman did not have to go that far. There in the center of the room stood a tall woman, her back to her that same cape as she had on in the temple but the hood was down, her head was blue and for hair it was not hair but long slick back tenitcals of a squid or octopus. They hung down to her breasts as she turned around, two big eyes wider then a normal human made her face stand out, her skin blue as the sea she stood out in the badly lit room. "i will not go with you back to that man, the demon has been hunting me for years, i rather die then go back to him just to be skinned and hung on a wall!i may be exiled form the sea but i am able to be here!" her fingers lit up the tips of them glowing a light teal blue as she looked to the woman before her, her cape flaping as she was naked under it but did not seem to have any human body parts anyway she was simply a prestine body smooth and silky looking, super small scales covering her frame and fine on her legs, arms, wait line and back hidden under the cape like cloak "please don't make me fight you"
Arzagoth Shadowhand05/01/2019
hearing the words "please don't make me fight you." came to Arzagoth's ears as he neared the building. He then took a brief pause to calm himself before he entered. It is here he caught up with the small ratfolk...and her quarry, a woman who appeared to have once called the open sea as home. He then noticed the aura that came to the sea-woman's fingertips, which set him in a state of guard. Holding up his hands in a peaceful gesture, Arzagoth neared the pair, meaning no harm nor threat to the seafolk being as he came closer "I know not who is hunting you, nor does their offer interest me. What interests me is who...and what...you are, lady." then with a bow, his first two fingers on his right hand extended upward, he introduced himself "I am Journeyman Arzagoth Shadowhand of the Verdaenii Order of Monks...and i am a Dragonborn. I mean you no harm." he then stepped to the chair and brought it to the strange woman so she could sit calmly. He then took a seat on the floor, roughly twenty feet away from her, his large, draconic scaled legs crossed.* "I shall listen to your words, if you so choose to tell us. I give you my word, upon my Order, no harm shall befall you while i listen." he then went silent, his pale blue-green draconic eyes looking only at the strange woman from the sea
EncryptedGrace05/02/2019
Zephyr's eyes adjusted to the light just as the figure turned toward her. They widened with surprise, but more than this, with awe. The scales covered her body like a fine mist, sparkling as she moved, and Zephyr's mouth dropped open. "Wow Maker, your masterpieces are everywhere." She whispered under her breath, and moved closer with her hands up defenselessly. "Oh, I don't make anyone do anything they don't want to do." Zephyr spoke, flashing the woman a sincere, child like smile. She glanced around the room a moment, noting the solitary desk and chair, and jumped a bit when the monk came in behind her. He brought a seat over and took up space on the floor, and Zephyr toed the ground she stood on, struggling to keep her impulses in check while he spoke. "You're so beautiful!" Zephyr exclaimed at last, the words bubbling out of her mouth before she could stop them, and her little clawed hands flew to her maw as her eyes widened. "I mean... What is your name?" She asked, decidedly toddling over to the squid woman as youthful pale orbs smiled at her. "Why are you exiled from the sea, pretty lady? Isn't that your home?" She asked, stopping just shy of the blue skin, and clasped her hands behind her back expectantly.
Anaya "The Night"05/02/2019
She shyed a little to the acthions of the two before her the large Male be his moves at a slow pace made her step back still on guard, but once he sat on the floor and was clearly not a threat she lowered her fingers and relaxed a moment takeing the chair and sitting down. The other one calling her beautiful made her cheeks go a light shade of purple as she looked at both of them her wide dark eyes swaying back and forth as her tentical hair twitched as if it thought for its self. They both had questions and they did not want to take her to the hunter. She let out a breath as her fingers stopped glowing "my is something many can not pronounce so most just call me blue, I am a Narfaul Ghoul but my people banished me to the surface as i was not harsh enough and not hunters want my hide due to hos rare it is to find us on land. The horned one and his men have tormented the rat folk here for months now to get me, and he then rats very kind to me I know there kindness will have an end. " she took a tendril in her hand as she spoke twisting it along her blue speckles fingers. "I live a simple life here useing my power to make men see there fantasys for a little coin, I hardly charge and at times I dont charge as I see the people here as friend, even if my race does not belive in friendship I am not as they are. And I dont want to die, we dont go to another place we simply go back and are remain and born agein, if I am killed my soul will go back to he and I will live a life of torment in Carthos the town outside the entrance."
Arzagoth Shadowhand05/02/2019
Arzagoth sat there, listening to her words. There was truth in what she had said. He had heard of her kind, the Narfaul Ghouls...and the being, Leviathan, from his studies at the monastery, then the connection hit him. These ratfolk worship Leviathan as a god, and thus, they see her as an Avatar of their God. He would then stand, offering his scaled and clawed hand to her peacefully "That is a sad tale, Lady Blue, a sad tale indeed. I'll not bore you with details of my own, just the fact that i was left at the steps of the Verdaenii Monastery as a hatchling. In any case...Lady Blue, I give you my word as a Monk of the Verdaenii Order to help you in any way i can. Those men and their Master will not get their hands on you as long as i live. he would give her a gentle smile after he said his peace, offering his hand to her. At that moment, he remembered the Ratfolk girl who wasnt a true Ratfolk. Turning to her, he had asked "What say you, Lady of the Webs? Will you stand with me in defense of this daughter of the sea? I will hold nothing against you if you do not wish to do so. Should you choose to stand with me, then please tell me your name."
EncryptedGrace05/02/2019
Zephyr's face fell, and she carefully, and comfortingly patted the knee of the beautiful tentacle lady, as she was only that tall being in the form of a rat child. "I know what it's like to be a little different from everyone else." Zephyr whispered to her, and glanced up to the monk as he stood, offering his protection to the Lady Blue, and then inquired her own name. "Oh, I'm Zephyr. And my brother, Vincent..." She glanced to the door, casting her gaze over her shoulder toward the chapel she had run from, and realized that Vincent hadn't come. "Oh! He didn't come with us! Vincent must till be at the chapel. Maybe he stayed to talk to the hunter." She murmured thoughtfully. "Lady Blue.. " She glanced up at the woman with imploring pale white eyes. "How do we help you? I can go get my brother. He's really good at helping too."
Anaya "The Night"05/02/2019
She stood up from her chair, they seemed nice but nice people most of the time died in the worst ways. Her large eyes looked at them both, first the monk then the female web person, it was almost the start of a bad joke, a woman a monk and a squid walk into a whore house. She gave a chuckle at the thought "if we gang up I am sure we can take on the hunters with your brothers help and then I will never have to be scared agein and I can live my exile in peace down here. Ya the water here is gross and smelly but I make a honest liveing and I like it here. And with them gone no one will try to kill me anymore....well till the next band of hunters come." She muttered the last part knowing it would not end easily but one fin at a time in life and you always had to keep your head up.
"Oh and I can reward you to, I dont have much but I have a trinket from my home world you can have it helps you get a bit stronger and adds water damage to the weapon you hold in battle, it is all I really have left of the deep but I dont need it seeing I will never be able to go back"
Arzagoth Shadowhand05/03/2019
As Arzagoth heard their words of agreement, a warm smile would show on his otherwise fiercely draconic visage. Just then, as Zephyr mentioned her...brother, the Spriggan, his eyes darted to the door they entered and concern came to his eyes. What could such a slender being have against a brute like the man who triggered such fear in the Narfaul Ghoul. He then turned to the door, grabbed his Siangham from his belt, and stepped past Zephyr, saying over his shoulder. "Wait here, ladies. I'm going to take a look outside." he then stepped to the doorway and peered out, scanning the street outside. What he saw was the group of men cartinh off what, at this distance, looked almost like a crate or worse...a casket. A low growl let from his mouth then he turned to the ladies then said "I think those hunters got your brother, Zephyr. Personally, i dislike men like those. What say you, Zephyr? Should we save him? As for you, Lady Blue, i believe here would be safer. Out of sight, out of mind. Trinkets and artifacts may have to wait." he then would await their decisions, weapon clenched in his clawed hand and gaze returned to the street, watching the men cart off the crate that most likely held Zephyr's brother*
(e)
EncryptedGrace05/03/2019
The monk seemed gentle enough. Zephyr wasn't privvy to their order or even to what they were really, she just knew that she didn't sense a lick of malice in the man and that made him fine by her. In her lifetime, since the creation of time itself and all that was contained within it, she had learned that mankind was protected regardless of their intentions. Be they evil or good, the Maker had given them a gift, and it was up to them the path that they chose to go with it. Some men decided for evil, like the hunter, or so it seemed. That was another thing Zephyr had learned. Nothing is ever as it seems. While the monk checked the street, Zephyr eyeballed the only other doorway in the room they stood in, and then drew her gaze upon the woman again and to the monk once more when he returned. "Do they have him?" Zephyr thought a moment, and then flashed the monk a smile. "They're only doing what they know to do. But if we're to make this a safe home Lady Blue, he's already a step ahead of us! Let's go get the hunter together. Vincent is already there." She cast her eyes on Lady blue, her head tipping back to see her face. "What do you want to do, Pretty lady?"
Anaya "The Night"05/03/2019
the woman did not know exactly what to do, if she went with them this task could bring them up to the surface were she would be vulnerable and could get noticed by others, but at the same time doing nothing ment the ring of hunters would just keep going. she had a simple life here, she did not do or make much and she kept to herself but  at the end of the day it was about the time to make a choice. leave this little hidden away sweet joyful town with some, rather odd, traditions and in reality they worshiped her, or go to the surface were she was a no one and could get hurt more but at the same time could feel the air on her scales agein and have a more active fun life and not be so simple and stale. she blinked a couple times as her mind raced, her large fish like eyes with massive black pupils flickered as she nodded her head to them both taking her hands and pulling her hood over her head and then lashing the fount of it closed "if your friend is in the temple still then it is best we go find him and deal with this, i will follow your lead and help you best i can.." just then she could hear the sound of horses and a cart thumping off and leaving as she ran forward pushed past the monk to look out the door to see the horse card with the hunters insignia plastered on the back racing away and towards the back exist of the city "um, i think your friend is gone.....he was um, human or normal right?" she paused as she looked at the two "not valuable to hunters...right, if so he might be, brought to there camp they will sell him on stone at auction in the morning, your friend, is going to be turned into a pelt or sold as a slave"
Arzagoth Shadowhand05/03/2019
Arzagoth growled audibly at Lady Blue's words of pelts and slavery. He then charged out without a word to follow the cart, knowing he wouldn't catch it here, but eventually catch up at it's destination. No being, be they plant or animal, should be subjected to slavery. In losing the cart in a tunnel, he would then roar in frustration. As he roared, the words of his old master, Elrad Brimfist, another Dragonborn like himself, came to his mind. /Arzagoth, frustration is easy, anger is easy. This is where you calm your heart and mind. Take a knee and place your senses in the now. The smells...the sounds...then look at your surroundings./ remembering his Master's words had calmed him, so, he followed the teachings. He knelt on one knee, closed his eyes and focused on the scents and sounds around him. The pungent aroma of the sewage water that trickled down the center of the tunnel...the sound of the ratfolk in the town behind him, the sound of water dripping from the tunnel ceiling ahead, the sound of sewer creatures scurring around him. After a few minutes, he opened his eyes and gave a careful search around him, looking for any sort of tracks, thinking that carts are heavy, and thus, leave deep, easy to follow tracks "Vincent....Keep your bark on, ya shrub! I'm coming to save you." he said under his breath as he waited for the other two to catch up to him (e)
EncryptedGrace05/03/2019
Zephyr watched the squid woman, waiting for her response, and noted her hesitation on the matter, but was glad when she decided to join them. After all, it was her freedom being fought for. Zephyr thought it a noble thing that she wasn't shying away from the confrontation that was bound to happen. A horse snorted, stomping its foot impatiently, and the squeal of a wagon wheel protested the weight of its load, and Zephyr watched Blue with a quirk of her webby brow. "A slave?" Zephyr didn't understand. Her only reference to slavery had been from Balore, who had told her that the whores in the whore house were owned as slaves, and used as such. "Why would someone want a tree in a whore house?" Vincent most certainly wasn't a human, but she considered him pretty normal for their kind. In any case, The moments following moved so quickly that Zephyr barely had time to gather herself before the Monk fled after the wagon in a frenzy. Zephyr glanced at the woman and flashed her a smile and a shrug before following - at a much slower pace - the monk. "Guess he knows the way!" She declared, taking one of Blues hands and tugged her along after the Monk. "The maker always has a plan. I don't know what is planned, but I do know that it's good. My only wish is that the maker knows there are still those who trust in the goodness of the maker." Zephyr wasn't afraid. She trusted that whatever was happening was only working out according to a plan set into motion long before creation had even happened. She rounded a corner with Blue in tow, and had she not stopped abruptly in her tracks, she would have collided with the Monk. "Oh! There you are! Did you find where they went? Wheee Vincent was heading?"
Anaya "The Night"05/04/2019
As the female grabbed her hand, skin on skin contact triggered part of the ghouls powers. Zephyr would see stars, hallucinations and see things that were not really there. And everything was so real it felt real, water touching zephyrs feet rising as if she could not run from it, air slowly fading as she could see bubbles drifting from her lips, she was drowning or well she thought she was, her own element sucked from her body leaving her struggling to get breaths, grasping for the air did not matter water was rising and it was so real, but in reality it was not real but the fact she could not breath was, mentally thinking she was drowning forced the body to think it was drowning and it was not breathing. But as soon as the woman realized she yanked her hand back breaking the extreamly vivid moment that could have ended the little ones life. "Dont touch my skin!" She yelled as she recoiled back her hood almost falling from her face as she watched the monk and the surely stunned zephyr l. "They had to have left out the back of the city, there is a road there that leads to the camps I am told" she said softly trying to change that topic of what happened even if she knew it was pointless to try to  sway the minds of others of oh ya let's talk about something that is not you almost killed a person.
Arzagoth Shadowhand05/04/2019
looking more intently at the floor of the tunnel, Arzagoth nodded silently. He the laid a hand on the furrows in the damp road, confirming the freshness of the track. Standing up once more, he turned to Zephyr, seeing the Blue Lady begin to catch up to the pair. Once she arrived, he turned his gaze back up the path "Yes, I believe i have. Thank you, Lady Blue, for the tip. They definitely came this way, no doubt there." he then took his weapon from his belt and gripped it firmly. There was no time to waste. Moving forward was the only way to save the Spriggan, and thus he began the march up the tunnel road, not too concerned if the ladies followed him. He was a Monk on a mission, and that was to save Zephyr's brother. All of his intent directed at freeing him from whatever they had him in and making the slavers suffer for not only taking him, but for tormenting a peace-loving being like the Blue lady and the Rat-folk. He made a mental note to add Slavers and Raiders to his list of hated people, as well as the Tiefling personally to his 'Bingo book', a new mental list of people he wants to eliminate. After a short time, he called back to the women "Well, you two coming or not? I'm going on, catch up when you can!" with a mental 'Tcheh', much like a scoffing sound, he then turned and continued on, not exactly waiting on the women who followed.
(e)
EncryptedGrace05/04/2019
Just as soon as Zephyr touched the woman's hand to tug her along, the entire world around Zephyr changed. She wasn't in the rat town, with the rat folk, she was being dragged underwater by a weight that she couldn't release. Or water was rising, she couldn't really tell. Her webs were floating off of her form and large bubbles of air billowed out of her. When she gasped, her form filled with the water, and her eyes widened with realization of the finality of her frail existence. She watched the bubbles leave, and she reached out to grasp them. Air! Her precious air. Zephyr thought she was dying. In all reality, she probably could have if air was restricted in that way, for long enough. But Blue tore away from her hand and in an instant it was all gone. Zephyr blinked hard, large white eyes glancing from Blue, to her own body, to her hand and back to blue. "Wooow..." She awed. "That is an amazing power!" Zephyr declared, before glancing over to the Monk they had caught up with. He was checking tracks before he pulled a weapon a d started up the trail headed for camp. There was no stopping him, with his one track mind. Zephyr stayed behind with Blue however, careful not to touch her, but they followed the Man even still. "Yeah, we're coming!" She called out.
Anaya "The Night"05/05/2019
She was surprised that the happy go lucky web girl did not freak out and lash back at her, she could have died and suffocated if she had kept contact with her. She moved forword keeping on the go as her feet jogged along to keep up with zephyr even if the monk had gone a head. "All my kind have it, we call it the leviathans gift we can touch others and change there mental perception of whatever we want. We also can interfere with dreams, thoughts, judgments and some of the stronger ones can even change someone's fate or time line, I need to touch things to do the bigger things , somethings i can do from a distance but i have kept alive by useing my powers to hide. Made the horned man see me as a rat once and be left me alone for a while till he figured out it was just a trick. But the others of my race use there power for malice, witch is why I got banished, I was not hard enough or strong enough to be worthy"
Arzagoth Shadowhand05/05/2019
After a few more hours, Arzagoth emerged from the tunnel and on to the open road. Kneeling down, he placed his empty hand to the road, reading the cart track. Without the stone under the soil, the tracks were somewhat deeper than in the tunnel. He then stood up, turned his head back to the tunnel as the two women had just exited and said "They came this way, that much is certain...and i smell.." he gave a deeper inhale through his nose, trying to identify the new smell "Smoke...their camp isnt very far at all. We should get there by nightfall. Well, let's go!" He then turned back to the road and continued onward, elated that he, as well as the shrub's sister and the sea-girl, were catchibg up to the slavers that sought out the blue one. So elated that a semi feral grin spread across his draconic maw as they continued onward to their goal. So elated that he began singing...well, well rather humming instead, the Verdaenii mantra for Retribution on the unjust. If he were a lighter being, he would probably be skipping, he was so happy.
EncryptedGrace05/05/2019
Zephyr listened to Blue talk about her powers, and she marveled that they were even possible. "Oh Lady Blue. You are worthy of so much more, don't you see?" Zephyr explained, lamenting that the woman thought herself as a lesser being because she didn't fit some sort of harsh mould. "You get to use your powers to make change, you get a choice, unlike your kin who weren't so lucky as to have that option. They just are as they are. You are not, and that gives you opportunity, not oppression." As they followed along after the monk, Zephyr took great care to be quiet, but it took a great deal of time and keeping up with him was beginning to wear on Zephyr. She glanced back over her shoulder to Blue, who she suspected was still following them."If you smell smoke already, I wouldn't be surprised if we happened on their camp long before nightfall." Zephyr paused in her tracks once they had caught up to the monk. "But we need a plan... Should we wait for the cover of darkness?" Her eyes cast to Blue again. Blue knew who they were dealing with better than either Zephyr or the monk. When the monk started on again with a spring in his step, and a hum on his voice Zephyr chuckled and nodded her head in unison to the whistling.
Anaya "The Night"05/06/2019
She kept on going with them and did not seem to get slower at all even at there pace, she was used to running and on land even if a normal Goul would be slow and frail she was used to it as she had grown her land legs well after many moons of banishment "hold up, zeapher is right we cant run in blind" she called out to the monk and she started to slow down "we sould set up a super small camp, get a bit of rest and then be ready bright and early, everything is dark with no sun but there camp will be lit up for sure, we will be able to hide then in morning maybe grab some clothing from a passer by so no one will notice us and we can go from there and scout out the camp, I dont even know how large it is, only that it is a big one, if it is a big one that is. We can sneak in get your friend and be out as fast as possible. " she hoped the monk would stop.or at.least slow his pace to a brisk walk so they could get there heads in the right direction.
Arzagoth Shadowhand05/06/2019
Arzagoth had heard her words and had slowed down his pace as the sun began it's final descent to the horizon. Shouldering off his pack, Arzagoth first walked off the road then sat down in the grass at the roadside. Looking at the two ladies, he sighed then said "Well, which of you can effectively scout the camp? Lady Blue, you're a wanted creature by these guys. The moment they see you, you're gone. Zephyr, your web-shaping power may be useful, but once you see your brother, your excitement will take over. I have a deep set hatred for their kind and what they do, but i can at least control my emotions better. I can also slip in using the tall grasses as cover. I say i go ahead and scout their camp out." with that said, he took out his incense box and set a stick in the holder to burn while he meditated, calming his mind for the task ahead. Once he was finished, he discarded the spent stick, put tge little iron box in his pack, then stood to scout ahead. He honestly thought himself the best for this task so that they all could plan for the rescue. Without a word to either woman, he slunk off to the tall grasses ahead.
EncryptedGrace05/06/2019
Although the sun was eclipsed by darkness and the sky had been dark even in the daytime, when the moon finally did show its face, Zephyr glanced up at it and the twinkling stars above with a bright smile. "Look, Lady Blue— Mister Arzagoth. the Maker still works, even when it seems like others have taken his place. The sun is still there too, just kissed by a sheet of darkness. Even Caliga in all her power can't thwart the Maker. I know that whatever is happening to my brother, is only according to the Makers plans. There's no need to worry or fret. But a good plan might be an asset." Zephyr sat, even as Goth pulled out a stick of incense. Zephyr smiled at the gesture. She was air, herself. The air in sentient form and she appreciated the cleansing benefit that the incense gave even to her as she sat nearby. It's smoke pulled away impurities, and aided in her strength, restored her energy and renewed her mind. Goth made a lot of assumptions but he was willing to put himself on the line, and that was rather brave of him, Zephyr thought. While he was scouting, Zephyr motioned to Lady Blue as she went the opposite direction that the monk had gone. "I'm gonna find Vincent. But maybe your power can help us get to him without being seen." Zephyr whispered through the tall reeds as they stepped toward the encampment.
Anaya "The Night"05/08/2019
She kept silent as they talked, it was true she was wanted but she could make onlookers see her as she wanted them to see her, a form of mental camouflage or interference, she could hide better then most but shenwas going to let them lead and see how it would go. Maybe there plans or lack there of would do better for them. She watched the monk go the one way and then zephyr go the other way, maybe splitting up was the unspoken plan? And she needed to rest anyway and it was still hours to morning. She let out a sigh as she moved forword finding a tree to rest up ageinst "it is hours till morning, I wish to get sleep before that time, if you both wish none then by all means go forth without me, but my mind is my strongest weapon and it is useless and weak if not rested" she shut her large eyes for a moment as shenqraped her arms around herself pulling her dark cloak around her slender small body. She was cold but a fire would get them noticed so it was better to not have one and just make due. It was only.moments before she started to drift to dream land, she was very sleepy.